dentaleyepad Setup - Introduction
So that the dentaleyepad can automatically transfer the images to your practice software,
a one-time setup is required first.

The setup is done in four steps:
unpack and load dentaleyepad

install and license dentaleyepad control center

Transfer license and connector data to your dentaleyepad

Configure interface in your software.
Step 1:
unpack and load dentaleyepad
Please charge the dentaleyepad for approx. 3 hours when using it for the first time. To do so, please place it on the docking station and connect the USB cable to the power adapter. Alternatively, you can plug the USB cable directly into the dentaleyepad.
The dentaleyepad switches on automatically when the minimum voltage is reached.
Nevertheless, please continue charging it until at least two green LEDs of the battery indicator light up.
When the dentaleyepad is fully charged, the charging animation stops and the top led is constantly green.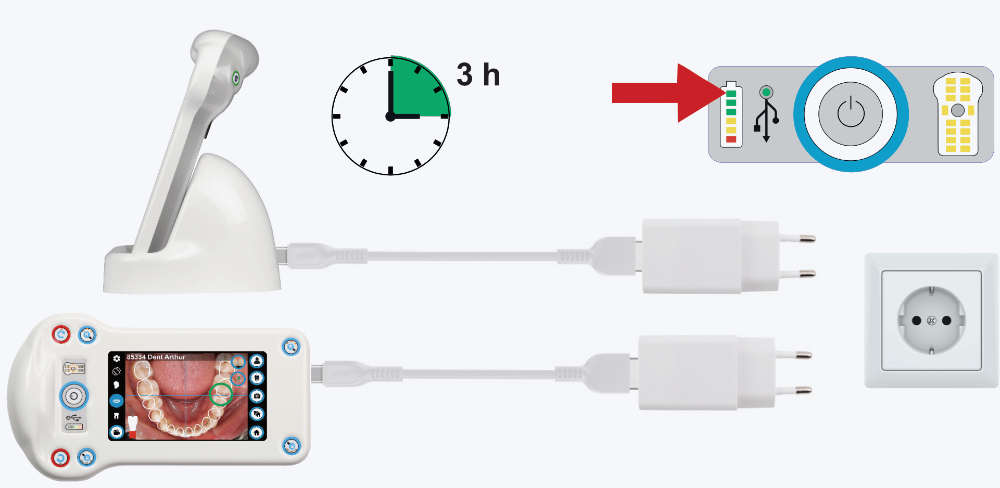 Step 2:
install and license dentaleyepad control center
The dentaleyepad control center is the communication center of the dentaleyepad
and must be installed on one of your practice PCs.
Please enter the serial number of your dentaleyepad and your e-mail address below.
We will send you the download link immediately.
Here you can find the serial number: